Dog N' Ewe Shop
Harmony Farm Kennel And Lamb, near Kamloops, BC is a 'custom care' dog boarding kennel, welcoming all dogs and is also a working sheep farm. With all it's activities of dog, sheep, lamb and farm animal characters, Harmony Farm is a wonderful source of motivation and inspirational energy! In our spare time, between hiking and playing with your dog, having a lamb fix, fluffing up livestock beds, caring for and feeding all the critters their eats and treats, as well as lambing five times per year (yes really 5x),we enjoy the opportunity to focus on rewarding products like our ever popular nutritiuos and deliciousDog 'On Good Lamb Bits & Bites For Pets. (Security advised!)
Also, occassionally, we are fortunate enough to come across worthwhile dog products and nutritional supports, that after gaining extensive first hand practical experience using, we are happy to suggest their benefits 'tried, true and effective'.

We hope you enjoy this shop and be sure to check in often as throughout the year there will be additions of exciting products!



HARMONY FARM'S very own
Dog 'On Good Lamb Bits & Bites For Pets!


For years we have seen owners deliver their dogs for a kennel vacation with us and hand us bags upon bags of treats meant for their dog's pleasure. Even though these costly treats are designed to be a yummy speciality for dogs, unfortunately, more often than not they contain artificial flavours, dyes, sugars, grains, fillers, emulsifiers, air and plenty of chemical additives and preservatives. More importantly, most dogs simply don't like them!
As we are proud producers of BC's finest lamb we noticed that most customers choose not to personally consume the vital organ meats (liver, heart and kidney) of our commercial market lambs. Thus, was born naturally dehydrated Dog 'On Good Lamb Bits & Bites For Pets, as a practical purpose for using the clean chemical- free organ meats thereby utilising more of the entire animals produced on our farm.
Dogs and cats just love them! Actually you might even need caution for your fingers when feeding as well as dog treat police security for their storage!
As requested from top trainers, Lamb Bits are the perfect size for treat training with positive motivation. Small pieces of these nutritious Bits of deliciousness keeps pets eager and attentive for more while the Lamb Bites are sized larger for a healthy, very popular appetizer or pet treat any time!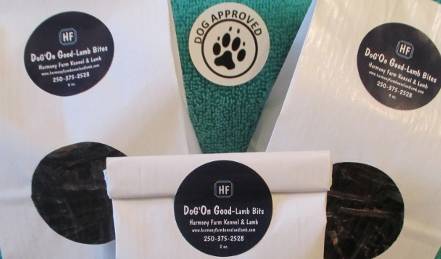 For Your Pets...Nutritious & Delicious!
Dehydrated Lamb Organ Meats
Chemical-Free!
2 oz Lamb Bit Size, Perfect For Training $6.50 p/pkg
4 oz Lamb Bite Size, Ideal For Snacks $9.50 p/pkg
Dehydrated chemical free lamb vital organ meats packaged in human grade, food safe and breathable paper bags without shelf stabilizers, chemicals or preservatives of any kind. Available at Harmony Farm Kennel & Lamb all year 'round!
"They are the perfect size for training or snacks and I feel great giving my dogs healthy treats that I can trust.
Even better, my dogs absolutely love them!"
~K. Salazar, Kamloops, BC
Holistic Dog Health Products
We have the unique opportunity to observe, exercise and play with hundreds of dogs of all breeds, ages, conditions and athletic aptitudes, that 'vacation' with us at our custom care dog boarding kennel, every year. We are not vets and do not pretend to have all the answers for every dog, however, we have realized there are specific patterns in common occurrences and ailments that many dogs experience; skeletal and muscular weaknesses that appear as a dog ages, digestive imbalances; skin disorders; weak immune systems; disruptions in some dog's athletic abilities due to weak conformation, straight angulations, common injuries and sport strains, as well as some dog's tendency for over exertion.


For 35 years Patricia has found incredible value from 'looking outside the traditional box' in many ways, including holistic approaches to injury prevention, animal health and wellness and for natural remedies that are non-toxic and have no side effects, in treating common ailments.
So many times with our own animals we have been faced with the normal 'tool belt' of a veterinarian's diagnosis that present limited choices of chemicals, antibiotics, steroids or surgery (which I am sure have their place in some situations). After much research and years of application with ourselves as well as our beloved dogs, cats, chickens, horses and sheep, we have come to learn and respect many wonderful, effective holistic methods of treating ailmentswithout the toxins, side effects or high costs of chemical applications.
Harmony Farm Kennel And Lamb's "Dog N' Ewe Shop" is excited to share some of our discoveries so that more pet owners may also be enlightened to alternative choices and possibly have a wider discernment between holistic remedies vs. pharmaceutical options for their animals and maybe, even themselves.
(Statements and suggestions made here are by no means, meant to replace a consultation with your doctor or veterinarian.)

Do You And Your Dog Always Feel Spry Enough To Jump With Joy?
...Sometimes yes, sometimes, not so much. Sometimes, we simply over exert our enthusiastic dogs (and ourselves too possibly) running, playing, hiking, swimming, herding or chasing balls and frisbees! Then again, sometimes our beloved pets weren't given the most sound joints and conformation. Other times, 'life' just happens with a bone, muscle or soft tissue trauma that causes inflammation, bruising, pain and stress.
ARNICA MONTANA
Homeopathic (Plant Derived) Remedy
Anti-Inflammatory
Treatment & Relief of Acute Bone, Muscle & Tendon Trauma
Natural Pain Reliever
Arnica is a age old homeopathic remedy that is plant derived and dates back to the 12th century with much historical and medical documentation for it's effective treatment and relief of bone, muscle, tendon inflammation, strain and trauma due to concussion, stress and over exertion.
Arnica is a safe, natural, convenient and reliable answer for muscle pain, stiffness, inflammation and bruising, as well as being used for centuries, as a pain reliever. Arnica is one of the most popular homeopathic medicines throughout the world and is trusted by professional athletes to soothe sore muscles and safely recover from minor injuries, overexertion and even surgery. Ever better, homeopathic remedies have zero side effects and are not conflicting with any pharmaceutical medicine including antibiotics!
Great for humans and animals alike when we have 'over done' the exercise or experienced trauma to any area of the body. Gerry & I have personally used Arnica for over 20 years and find that it is so effective for strains, inflammation and bruising that we have it in our own medicine box, all our farm vet boxes ,we carry it with us in every vehicle, Patricia's purse, briefcase and even our saddlebags! We have enjoyed it's wondrous effective relief of inflammation, pain and bruising when we have hurt ourselves or over worked and find it equally effective with our many horses, dogs, cats, sheep and lambs too!
We enjoy offering custom care to our visiint dog cusotmers and are happy to also help rehabilitate dogs after injuries or post surgery. While they are here, to recovery from a surgery at our kennel, of course, we administer whatever medicine, ointment, anti-inflammatory or pain killer etc, as their owners/vet direct and as Arnica has no conflict with chemical applications it is often used as a wonderful compliment to fight inflammation and overall body soreness during rehab. Often, when appropriate, we find ourselves recommending Arnica to our dog boarding clients as a natural relief to aches & pains for arthritic, rheumatism and general soreness that often comes to ageing dogs. When we mention Arnica, most people are excited, yet unfamiliar that anything so effective exists in a natural uncomplicated form. They are amazed and relieved that it is priced affordably and has absolutely no side effects or contra-indications. They are thrilled to learn of Arnica, yet have difficulty finding the instantly dissolving form that is so handy to give to animals, so here it is on hand at Harmony Farm!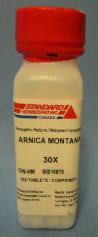 Arnica Montana 30X
250 Tablets, (instant dissolving form),
Produced in Canada by Standard Homeopathic
$14.99
"Simply Patricia, this old Mirk of ours wouldn't be moving without Arnica! It's easy and it helps so much! Mirk just layed around and could barley get up and
after only a few days with Arnica in his water he's back out trotting around and feeling good again.
We have our dog for a little longer and he is happy again - I love my dog Patricia and after all her years of devotion I want to do everything I can to help him.
I can't thank you enough for leading us to Arnica."~ K. Brown, Kamloops, BC
General Guidelines For The Most Effective Use Of Homeopathic Remedies
To administer for animal or human benefit simply drop a few tablets into the plastic cap and place directly from the cap into the mouth where it is absorbed instantly into the saliva glands. Hold mouth closed 10-30 seconds until totally dissolved. (No worries, they taste like sugar!) When giving to animals be sure to hold head at normal level height. Homeopathics can also be diluted easily into 10-20 ml of water (avoid use of anything metal to stir) and syringed into animal's mouth.
Homeopathics are generally less effective when mixed with food – best when taken between meals. Avoid caffeine when taking any homeopathic remedy, including black tea, coffee, chocolate or mint. They may also be added to drinking water for more long term or chronic conditions. Be sure to avoid using any metal containers. Do not touch with human hands or metal of any kind. (Use plastic or ceramic water bowl for your animals).
More quantity per dose is not better – you will do no harm whatsoever but more does not make any homeopathic stronger or more effective - better to take low doses (1 or 2 tabs) oreoften or put it in your dogs drinking water for access to small amounts often. .
Take in small amounts, no matter the person's or animal's body weight. 1-3 of the tiny tablets is plenty. In acute conditions the sooner it is taken the better. Within 24 hours of trauma, take homeopathics at the small dose of a few tabs, 2-3 x per day or every few hours if more pronounced inflammation is anticipated. Once healing effects have begun you can discontinue taking Arnica and allow the body to continue on it's own. If you continue taking Arnica after 2-3 days of injury, there is no harm or side effects whatsoever, however taking any homeopathic remedy more than 7 days consecutively will not usually be of further benefit.

GREEN LIPPED MUSCLE EXTRACT
Natural Anti-Inflammatory Supports Healthy Bones, Joint Function & Overall Skeletal System Protection, Repair & Relief From Chronic Joint Pain & Inflammation Natural Source of Glucosamine & Chondroitin Sulphate Natural Source Of Omega 3 Fatty Acid
The Green Lipped Mussel is rapidly becoming a popular natural supplement for relief from chronic joint and inflammatory illnesses such as arthritis, osteoarthritis and rheumatic conditions in both humans and animals. (Not to be taken if any known allergies of shellfish are known.)
Native to New Zealand, these shellfish have been consumed by the Maori people for thousands of years yet the impressive health benefits of the Green Lipped Mussel only came to the attention of westerners in the 1960s because of the notable absence of inflammatory illness among the Maori people.
Studies have shown that this unique shell fish is a rich natural source of Omega 3 fatty acids and naturally contains Glucosamine and Chondroitin Sulphate. In addition, the unique qualities of the Green Lipped Mussel have shown benefits for relieving joint inflammation and pain associated with arthritis.
Omega 3 is an essential nutrient for our bodies and helps with blood clotting, cell production and protection from heart disease. Chondroitin and Glucosamine are both components of natural cartilage and are used within the body to build cartilage. Chondroitin is known to block enzymes that break down cartilage, helping to protect joints from inflammatory disease. These potent nutrients provide protection, repair and relief to inflamed and/or worn out joints affected by arthritic illness and Green Lipped Mussels are a rich, natural source of all three.
Green Lipped Muscle Extract



Compounded/Packaged locally
Bottles of 100, 500 mg gel capsules
Can be taken orally or sprinkled on food
Only 1-2 caps per day needed for outstanding results.
$26.99 per bottle

DIATOMACEOUS EARTH - "DE"


Non-Toxic, Non-Chemical, Safe Insect Protection For All Your Pets!

Diatomaceous Earth (DE) is an off white talc-like powder that is the fossilized remains of marine phytoplankton. Diatomaceous earth is made from the fossilized remains of tiny, aquatic organisms called diatoms. Their skeletons are made of a natural substance called silica. Over a long period of time, diatoms accumulated in the sediment of rivers, streams, lakes, and oceans. Today, silica deposits are mined from these areas and used for all types of products, including those for insect control. The first pesticide products containing silicon dioxide (Diatomaceous Earth) were registered in 1960 to kill fleas and mites.

DE is comprised of almost pure silica with some beneficial trace minerals. Quality DE is made of amorphous silicon dioxide with less than 0.5% crystalline silicon dioxide. Under a microscope, it looks like shards of glass (glass is made from silica). On any exoskeletal type insect that has a carapace, like fleas, lice, mites, ants and cockroaches, the DE works under the shell and punctures the body, which then dehydrates and the insect dies. DE is totally non-chemical and non-toxic. There is no build up of tolerance like there is to poisons because the method of killing is physical, not chemical.

When sprinkled on any bug that has an exoskeleton (such as fleas, lice, ticks, beetles, mites, cockroaches or ants ) it compromises their waxy outer coating so that they cannot survive without it's protection. DE has no side effects and doesn't hurt mammals in any way (not recommended to be directly inhaled). We can eat it - actually, we do eat it and most of us don't even realize it! (It is included in many grain based food products to enable their insect free storage!)

The important thing for us to note is that if an insect with an exoskeleton gets DE on them the insects can not survive. At the same time, it is totally safe to be rubbed all over skin, or into hair or even eaten ... and it is totally safe! Short version is that for our dogs, cats, horse, sheep etc that are prone to pick up winter external parasites of various descriptions, Diatomaceous Earth sprinkled thoroughly into their hair coat kills all bugs, while being safe, non-chemical, non-toxic, having no side effects whatsoever and does not affect their health in any way - except to be parasite-free and bug-free!

Diatomaceous Earth
One Pound $14.99

TUMERIC
Discover the amazing health benefits of this age old spice.
One of the best kept secrets out there!

Powerful Antioxidant
Potent Anti-Inflammatory
Natural plant derived source of Curcumin
Simple to use, very palatable (even for animals),extremely effective
A golden coloured mild flavoured plant derived spice, Ayurvedic and Chinese medicines utilize Turmeric to clear infections and inflammations on the inside and outside of the body.Simple to use, very palatable, even for animals, we have found Turmeric to be an extremely effective dietary supplement for management of arthritic, rheumatic and chronic causes of joint discomfort and skeletal inflammation.


A powerful cancer blocking antioxidant...Doctors at UCLA recently found that Curcumin, the main component in turmeric, appeared to block an enzyme that promotes the growth of head and neck cancer. The University of Maryland's Medical Center also states that Turmeric's powerful antioxidant properties fight cancer-causing free radicals, reducing or preventing some of the damage they can cause.
Potent anti-inflammatory..."Turmeric is one of the most potent natural anti-inflammatories available," Dr. Horwitz, medical director of the Arizona Center for Integrative Medicine. "It's inexpensive, mild in taste, and benefits every system in every body," Dr. Kling, Natural Healing Institute of Neuropathy says. "Adding this powerful plant to your diet is one of the best things you can do for long term health."


Organic Tumeric



Top Dress on dog food with a little water 1/8-1/4 tsp per 10 pound Body Weight
(Up to 1/4 cup for horses)
One Half Pound Bag of Organic Tumeric $19.50

Does Your Dog Get Travel Sickness? Try ZYLKENE For Dogs
We love to meet dogs when they are dropped off with us for a doggy vacation, however, getting here is often not fun for either the nauseous dog or the owners that have to clean up after the trip! Many folks have arrived desperate for a solution to their dog's travel motion sickness. So far, touch wood, we hear raving reviews with this all natural answer to motion sickness/travel anxiety! Try it! Enjoy the difference of a travel comfortable dog!
ZYLKENE 450 For Dogs
Natural Milk Protein Derivative
Food Supplement (highly palatable)
Promotes Calm While Under Extreme Stress
Zylkene, by Vetoquinol is a natural, highly palatable product derived from milk proteins. It has been tested thoroughly and proven to help your cat or dog cope in times of stress, high anxiety, motion sickness and/or adapt to change. It is a food supplement made from a protein found in milk (the same molecule that helps babies relax after a milk feed). The active ingredient is Alpha-S1Tryptic Casein a peptide (a protein molecule) which is an active ingredient derived from milk protein, able to bind temporarily to certain receptors in the brain which has a calming influence, similar in some ways to tranquillizer drugs but without the side effects associated such as sedation, appetite or memory loss.
It is used to promote and enhance relaxed behaviour for environmental changes (e.g. new pet, new baby or house moves) household disruptions, kennel stays, fireworks, abandonment issues, motion sickness or travel anxieties.
ZYLKENE 450 For Dogs
HFKL Convenient Trial Size - 8 capsules - $30


"Patricia, thank you so much for suggesting Zylkene! I wanted to let you know that Axel was very calm going home, and
for the first time ever, he wasn't car sick at all!!!
Happy pup and no more clean up - such a relief for all of us!"
~ D. Tuma-Wilson, Blind Bay, BC
Stay Tuned For More Exciting Products Coming Soon To The
Harmony Farm Kennel And Lamb
Dog N'Ewe Shop!