Rates & Reservations

We welcome you and all your awesome dogs to our peaceful country dog boarding services of Harmony Farm Kennel And Lamb, near Kamloops, BC, where you will find over and above added value 'custom care' for your dog at very affordable, competitive rates. Prices charged per night consistently throughout the year (including holidays) and includes tax.
"You provide a rare service that simply places your facility worlds above other kennelling choices."

~ TJ Schroeder, Kamloops, BC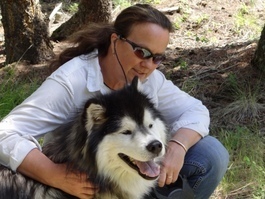 * Please see the Answers to Questions page for HFKL's extra care and thoughtful protocols for you and your dogs, during Covid 19 pandemic.
Click Here To Reserve Your Dog's Kennel 'Vacation'!
Dog Boarding Kennel Prices
$32.50/night (includes tax)
$22.50/night per additional dog when sharing the same kennel (includes tax)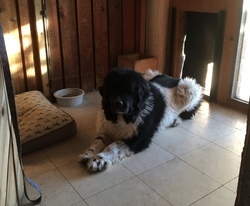 "Wow, this place has great dog zen!"
~M. Luttmerding, Enderby, BC
Introducing... Doggie Shuttle Service to and from Harmony Farm Kennel, Monte Lake, BC
Keep life simple with one less thing to do and leave your dog's transport to or from the kennel to us! All you need to do is have your dog's vacation bags packed, ready to go and be home, able to greet us! Positive, safe, individual doggy transportation experiences our pleasure!

Dog Kennel Vacation Bag:
- dog's regular bed (in a plastic bag),
- regular food (include extra day supply)
- toys
- treats
- and ...most importantly, something that smells like you for added creature comforts

Shuttle needs to be arranged with Patricia at time of dog boarding reservation. Not available for any dog's first time kennel visit.
$50.00 one way to Kamloops, Vernon, Armstrong, Chase, Sorrento (includes tax). Other destinations can be requested.
Daycare
$20.00/per dog/per day (includes taxes)
(8:00AM - 5:00 PM only please)
Payment
Payment is due at the time you pick up your dog, by cash, check (payable to Harmony Farm Kennel And Lamb) or by ETransfer. Please send pre-confirmed ETransfers to patriciawithharmony@gmail.com. Thank you!


Your Arrival
We are happy to be flexible for your convenient times to drop off and pick up your dog, however, as we are often hiking dogs, tending to farm duties and caring for animals throughout the day we very much appreciate your pre-arranged confirmation of your estimated arrival times (ETA) to be sure we are around the kennel area to greet you. Your ETA will also ensure that we aren't up hiking in the forest with your dog when you arrive!
Upon your arrival, our driveway alarm will let us know you're here! As we are a working farm, we ask that you please keep your dog in your vehicle or on leash until we greet you. We appreciate it!
Dog Check In/Drop Off
We are flexible to accommodate your preferred times for check in/drop off. Considering our kennel feeding times and morning hikes, our ideal time for you to drop your dogs off are 9:00 AM - 11:00 AM. We appreciate your advance notice for your ETA and we will be happy to confirm it along with your reservation, so that we can be sure to schedule our hikes around arrival times. Drop offs no later than 7:00 PM please.
Dog Check Out/Pick Up Time
We can accommodate your preferred time for check out to pick up your dog. Our 'line in the sand' for check out time is for dogs to be picked up before 3:00 PM. As dogs are rarely dropped off later in the afternoon, any dogs picked up after 3:00 PM will be charged for that night's kennel stay. Your ETA is very much appreciated so that we can plan accordingly. Pick ups no later than 7:00 PM please.
What To Bring Along For Your Dog
Remember to bring along your filled out Registration/Information forms, your dog's regular bed, *regular food (no changes please),favourite toys, treats and most importantly, something that smells like you, for their added creature comforts and connection to home. * Please bring at least one extra day's food supply in case your pick up is delayed.
Long Term Dog Kennel Stays
We welcome long term, regular and repeat kennel stays for extended dog boarding kennel 'vacationers' from local Kamloops, BC or from far and wide! We will be pleased to give you a discounted rate for your dog's stay over 30 days. Please be sure to ask!
We look forward to caring for and playing with your dogs soon and thank ewe for the opportunity!