Zylkene for Dogs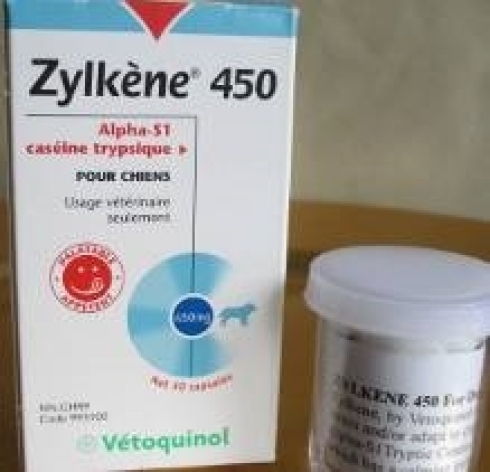 Does Your Dog Get Travel Sickness? Try ZYLKENE For Dogs
We love to meet dogs when they are dropped off with us for a doggy vacation, however, getting here is often not fun for either the nauseous dog or the owners that have to clean up after the trip! Many folks have arrived desperate for a solution to their dog's travel motion sickness. So far, touch wood, we hear raving reviews with this all natural answer to motion sickness/travel anxiety! Try it! Enjoy the difference of a travel comfortable dog!
ZYLKENE 450 For Dogs
Natural Milk Protein Derivative
Food Supplement (highly palatable)
Promotes Calm While Under Extreme Stress
Zylkene, by Vetoquinol is a natural, highly palatable product derived from milk proteins. It has been tested thoroughly and proven to help your cat or dog cope in times of stress, high anxiety, motion sickness and/or adapt to change. It is a food supplement made from a protein found in milk (the same molecule that helps babies relax after a milk feed). The active ingredient is Alpha-S1Tryptic Casein a peptide (a protein molecule) which is an active ingredient derived from milk protein, able to bind temporarily to certain receptors in the brain which has a calming influence, similar in some ways to tranquillizer drugs but without the side effects associated such as sedation, appetite or memory loss.
It is used to promote and enhance relaxed behaviour for environmental changes (e.g. new pet, new baby or house moves) household disruptions, kennel stays, fireworks, abandonment issues, motion sickness or travel anxieties.

ZYLKENE 450 For Dogs
HFKL Convenient Trial Size - 8 capsules - $30

"Patricia, thank you so much for suggesting Zylkene! I wanted to let you know that Axel was very calm going home, and
for the first time ever, he wasn't car sick at all!!!
Happy pup and no more clean up - such a relief for all of us!"
~ D. Tuma-Wilson, Blind Bay, BC