Harmony Farm's Dog 'On Good Lamb Bits & Bites for Pets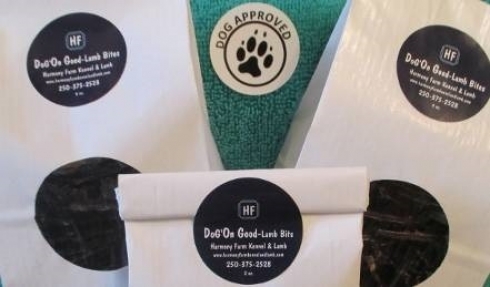 HARMONY FARM'S very own Dog 'On Good Lamb Bits & Bites For Pets!
For years we have seen owners deliver their dogs for a kennel vacation with us and hand us bags upon bags of treats meant for their dog's pleasure. Even though these costly treats are designed to be a yummy speciality for dogs, unfortunately, more often than not they contain artificial flavours, dyes, sugars, grains, fillers, emulsifiers, air and plenty of chemical additives and preservatives. More importantly, most dogs simply don't like them!
As we are proud producers of BC's finest lamb we noticed that most customers choose not to personally consume the vital organ meats (liver, heart and kidney) of our commercial market lambs. Thus, was born naturally dehydrated Dog 'On Good Lamb Bits & Bites For Pets, as a practical purpose for using the clean chemical- free organ meats thereby utilising more of the entire animals produced on our farm.
Dogs and cats just love them! Actually you might even need caution for your fingers when feeding as well as dog treat police security for their storage!
As requested from top trainers, Lamb Bits are the perfect size for treat training with positive motivation. Small pieces of these nutritious Bits of deliciousness keeps pets eager and attentive for more while the Lamb Bites are sized larger for a healthy, very popular appetizer or pet treat any time!

For Your Pets...Nutritious & Delicious!
Dehydrated Lamb Organ Meats
Chemical-Free!
2 oz Lamb Bit Size, Perfect For Training $6.50 p/pkg
4 oz Lamb Bite Size, Ideal For Snacks $9.50 p/pkg
Dehydrated chemical free lamb vital organ meats packaged in human grade, food safe and breathable paper bags without shelf stabilizers, chemicals or preservatives of any kind. Available at Harmony Farm Kennel & Lamb all year 'round!
"They are the perfect size for training or snacks and I feel great giving my dogs healthy treats that I can trust.
Even better, my dogs absolutely love them!"
~K. Salazar, Kamloops, BC