Arnica Montana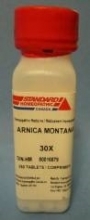 Do You And Your Dog Always Feel Spry Enough To Jump With Joy?
...Sometimes yes, sometimes, not so much. Sometimes, we simply over exert our enthusiastic dogs (and ourselves too possibly) running, playing, hiking, swimming, herding or chasing balls and frisbees! Then again, sometimes our beloved pets weren't given the most sound joints and conformation. Other times, 'life' just happens with a bone, muscle or soft tissue trauma that causes inflammation, bruising, pain and stress.
ARNICA MONTANA
Homeopathic (Plant Derived) Remedy
Anti-Inflammatory
Treatment & Relief of Acute Bone, Muscle & Tendon Trauma
Natural Pain Reliever
Arnica is a age old homeopathic remedy that is plant derived and dates back to the 12th century with much historical and medical documentation for it's effective treatment and relief of bone, muscle, tendon inflammation, strain and trauma due to concussion, stress and over exertion.
Arnica is a safe, natural, convenient and reliable answer for muscle pain, stiffness, inflammation and bruising, as well as being used for centuries, as a pain reliever. Arnica is one of the most popular homeopathic medicines throughout the world and is trusted by professional athletes to soothe sore muscles and safely recover from minor injuries, overexertion and even surgery. Ever better, homeopathic remedies have zero side effects and are not conflicting with any pharmaceutical medicine including antibiotics!
Great for humans and animals alike when we have 'over done' the exercise or experienced trauma to any area of the body. Gerry & I have personally used Arnica for over 20 years and find that it is so effective for strains, inflammation and bruising that we have it in our own medicine box, all our farm vet boxes ,we carry it with us in every vehicle, Patricia's purse, briefcase and even our saddlebags! We have enjoyed it's wondrous effective relief of inflammation, pain and bruising when we have hurt ourselves or over worked and find it equally effective with our many horses, dogs, cats, sheep and lambs too!
We enjoy offering custom care to our visiint dog cusotmers and are happy to also help rehabilitate dogs after injuries or post surgery. While they are here, to recovery from a surgery at our kennel, of course, we administer whatever medicine, ointment, anti-inflammatory or pain killer etc, as their owners/vet direct and as Arnica has no conflict with chemical applications it is often used as a wonderful compliment to fight inflammation and overall body soreness during rehab. Often, when appropriate, we find ourselves recommending Arnica to our dog boarding clients as a natural relief to aches & pains for arthritic, rheumatism and general soreness that often comes to ageing dogs. When we mention Arnica, most people are excited, yet unfamiliar that anything so effective exists in a natural uncomplicated form. They are amazed and relieved that it is priced affordably and has absolutely no side effects or contra-indications. They are thrilled to learn of Arnica, yet have difficulty finding the instantly dissolving form that is so handy to give to animals, so here it is on hand at Harmony Farm!

Arnica Montana 30X
250 Tablets, (instant dissolving form),
Produced in Canada by Standard Homeopathic
$14.99
"Simply Patricia, this old Mirk of ours wouldn't be moving without Arnica! It's easy and it helps so much! Mirk just layed around and could barley get up and
after only a few days with Arnica in his water he's back out trotting around and feeling good again.
We have our dog for a little longer and he is happy again - I love my dog Patricia and after all her years of devotion I want to do everything I can to help him.
I can't thank you enough for leading us to Arnica."
~ K. Brown, Kamloops, BC