About Us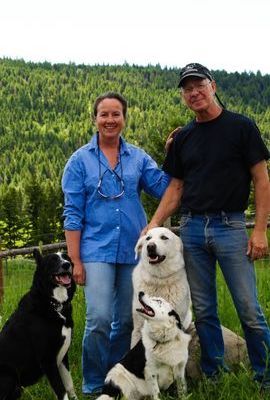 Welcome! We are Gerry and Patricia Porter, owner/operators of HARMONY FARM Kennel And Lamb, situated in the beautiful Paxton Valley, just 35 minutes SE of Kamloops, at Monte Lake, British Columbia. Simply, we live everyday to love, laugh and breathe passionately and fully for our committment to 'mother nature in it's finest form' - the animals - your dogs included! We invite you to visit Harmony Farm Kennel And Lamb any time!


With over 40 years, dedicated full time to professional animal care, training and farm management, we enjoy our daily work and play at home, amidst the open rolling countryside, lush forested mountains and fresh air of this beautiful, quiet working farm location, yet appreciate the convenience of living close to both cities of Kamloops and Vernon, BC.


Together with our incredible family of dogs, cats, chickens, horses, guardian llama 'Topsey' and our ever growing flock of beloved hair sheep (see Harmony Farm Lamb),we are honoured to welcome, care for, exercise and play with all types of dog breeds and doganalities! As for sheep - we love our sheeps too! Having a holistic approach to animal husbandry that is unique amongst meat producing farmers, we stay busy lambing all year round, proudly producing the very best of BC's local premium lamb.
"Thank you Harmony Farm Kennel And Lamb for your unparalleled care that gives happiness and serenity, and that allows amazing transitions of our sweet friends from kennel to home, which truly says it all about what you do. I dare say this on behalf of other kennel customers whose
smiles I've seen when I am there."
~ P.Curry, DVM, Lumby, BC
Click Here To Reserve Your Dog's Kennel 'Vacation'!
Harmony Farm Kennel And Lamb is open year 'round! You along with your awesome dogs are welcome to visit any time! For your dogs, we look forward to being "a nice place to stay while you're away..." and for you, we hope you take the opportunity to 'taste the difference' of BC's finest premium gourmet lamb for your dining pleasure!
Be sure to check back here often for; new updates, photos (you may see a beautiful photo of your own dog's vacation),'Dog Blog' story adventures featured in "A Day In The Life At Harmony Farm", and take advantage of educational tidbits, nutritional 'tried and true' nutritional products on the Dog N' Ewe Shop, as well as free solutions to your dog training/behavioural challenges, on our "ASK THE TRAINER" page!


Watch us evolve, learn, laugh and 'like us' on our Harmony Farm Kennel And Lamb Facebook page!