Diatomaceous Earth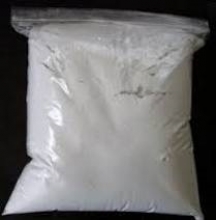 DIATOMACEOUS EARTH - "DE"
Non-Toxic, Non-Chemical, Safe Insect Protection For All Your Pets!
Diatomaceous Earth (DE) is an off white talc-like powder that is the fossilized remains of marine phytoplankton. Diatomaceous earth is made from the fossilized remains of tiny, aquatic organisms called diatoms. Their skeletons are made of a natural substance called silica. Over a long period of time, diatoms accumulated in the sediment of rivers, streams, lakes, and oceans. Today, silica deposits are mined from these areas and used for all types of products, including those for insect control. The first pesticide products containing silicon dioxide (Diatomaceous Earth) were registered in 1960 to kill fleas and mites.
DE is comprised of almost pure silica with some beneficial trace minerals. Quality DE is made of amorphous silicon dioxide with less than 0.5% crystalline silicon dioxide. Under a microscope, it looks like shards of glass (glass is made from silica). On any exoskeletal type insect that has a carapace, like fleas, lice, mites, ants and cockroaches, the DE works under the shell and punctures the body, which then dehydrates and the insect dies. DE is totally non-chemical and non-toxic. There is no build up of tolerance like there is to poisons because the method of killing is physical, not chemical.
When sprinkled on any bug that has an exoskeleton (such as fleas, lice, ticks, beetles, mites, cockroaches or ants ) it compromises their waxy outer coating so that they cannot survive without it's protection. DE has no side effects and doesn't hurt mammals in any way (not recommended to be directly inhaled). We can eat it - actually, we do eat it and most of us don't even realize it! (It is included in many grain based food products to enable their insect free storage!)
The important thing for us to note is that if an insect with an exoskeleton gets DE on them the insects can not survive. At the same time, it is totally safe to be rubbed all over skin, or into hair or even eaten ... and it is totally safe! Short version is that for our dogs, cats, horse, sheep etc that are prone to pick up winter external parasites of various descriptions, Diatomaceous Earth sprinkled thoroughly into their hair coat kills all bugs, while being safe, non-chemical, non-toxic, having no side effects whatsoever and does not affect their health in any way - except to be parasite-free and bug-free!
Diatomaceous Earth
One Pound $14.99