HARMONY FARM LAMB
In addition to welcoming ALL dogs to our country 'custom care' dog boarding kennel, Harmony Farm Kennel And Lamb located at Monte Lake, near Kamloops BC, is also the proud founders HARMONY FARM LAMB, which is comprised of the beautiful foundation flock of hair bred St. Croix, White Dorper and Royal White sheep. While the meat lamb business was sold (see below),I continue to proudly breed exceptional breeding stock for sale. Please call or contact me for specific information on the outstanding purebred individuals available to enhance your farm and sheep breeding production.
BREEDING STOCK
We are pleased to offer for sale, excellent 2019 choices of hair bred rams to enhance your breeding program. White Dorper rams provide impressive bulk adding meat gain in record time, while the St. Croix rams compliment any meat sheep with added height and length, enabling more meat gain 'space' as well as improved maternal capabilities, parasite resistence and year round breeding aspects. All our sheep are well maintained, have excellent conformation, are 100% sound and of clean purebred genetics (some are quads!).
The result of breeding White Dorpers with St. Croix results in the 'Royal White', which to us, is the very best of all worlds... specificially less bone, more meat. Added height provides larger roasts, longer shanks and thicker chops having a considerably larger carcass overall, with progressive gain (without grain) in record time.
Please feel free to inquire further more information and availability.
HARMONY FARM LAMB ...MEAT
Introducing, Dale and Wendy McNamar, the new owners of HARMONY FARM LAMB, located in Creston, BC. They started building Kootenay Natural Meats fourteen years ago to share their dedication for healthy meat products. Dale and Wendy take pride in their high standard of farming and have great respect for their animals. Growing their own chemical free hay and grain as well as providing immense pasture, ensures their committment to offer superior quality meat products year round, by raising their animals as naturally and consciously as possible...they were the perfect fit to continue with our cherished HFL flock.
"We admire the ethics and values that Gerry & Patricia, the founders of Harmony Farm Lamb embraced,
in raising their foundation of hair bred sheep and it is important to us that we maintain this standard of care as
we welcome this exceptional flock to our farm in the Creston Valley. We are thrilled to have the opportunity to
introduce Harmony Farm Lamb as a new sector in our farming operations, and we endeavor to provide the same
superior product and regular bi-weekly service that Harmony Farm clients have grown to love and expect."

Please click on the HARMONY FARM LAMB link below to go directly to Dale and Wendy's website as they welcome all inquiries and very much look forward to meeting you, providing the same Best BC Lamb meat products, year round!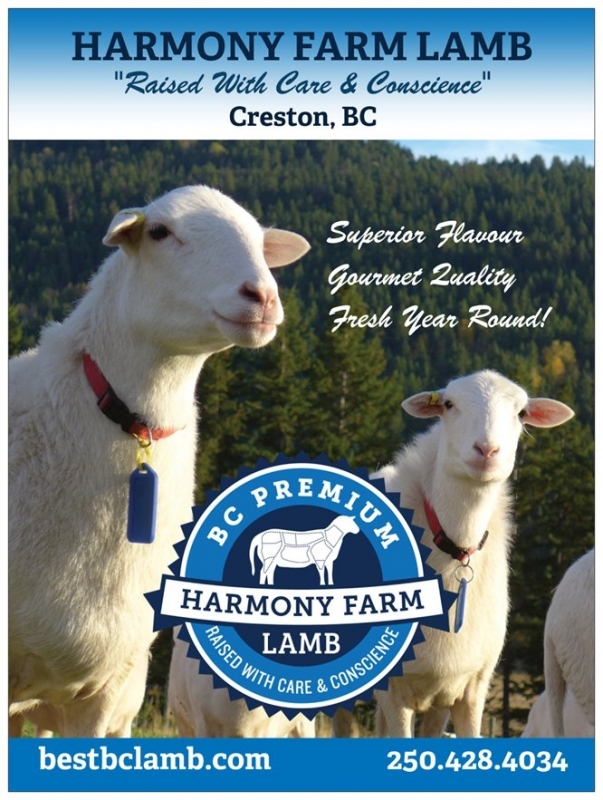 BC's #1 choice for premium quality, ethically raised, local BC lamb, available fresh all year-round...visit www.bestbclamb.com for more information and details of how to order your own delicious supply of lamb! You will "love to taste the difference!"