HARMONY FARM LAMB
In addition to welcoming ALL dogs to our country 'custom care' dog boarding kennel, Harmony Farm Kennel And Lamb located at Monte Lake, near Kamloops BC is also the proud founders HARMONY FARM LAMB, which was comprised of the beautiful foundation flock of St. Croix, White Dorper and Royal White sheep that has become what some of the best chef's and master butchers in the country regard as, BC's finest lamb.


Introducing, Dale and Wendy McNamar, new owners of HARMONY FARM LAMB, located in Creston, BC. This amazing couple we have been farming together for more than two decades. Raising animals has always been their passion. They started building Kootenay Natural Meats twelve years ago as they decided to share their dedication for healthy meat products with their community. Dale and Wendy take pride in the high standard of farming they practice and have great respect for their animals. Growing their own chemical free hay and grain as well as providing immense pasture, ensures their committment to offer superior quality meat products by raising their animals as naturally and consciously as possible.
"We admire the ethics and values that Gerry & Patricia, the founders of Harmony Farm Lamb embraced,
in raising their foundation of hair bred sheep and it is important to us that we maintain this standard of care as
we welcome this exceptional flock to our farm in the Creston Valley. We are thrilled to have the opportunity to
introduce Harmony Farm Lamb as a new sector in our farming operations, and we endeavor to provide the same
superior product and regular bi-weekly service that Harmony Farm clients have grown to love and expect."


Please feel free to click on the HARMONY FARM LAMB link below to go directly to Dale and Wendy's website as they welcome all inquiries and very much look forward to meeting you, providing the same Best BC Lamb products, year round!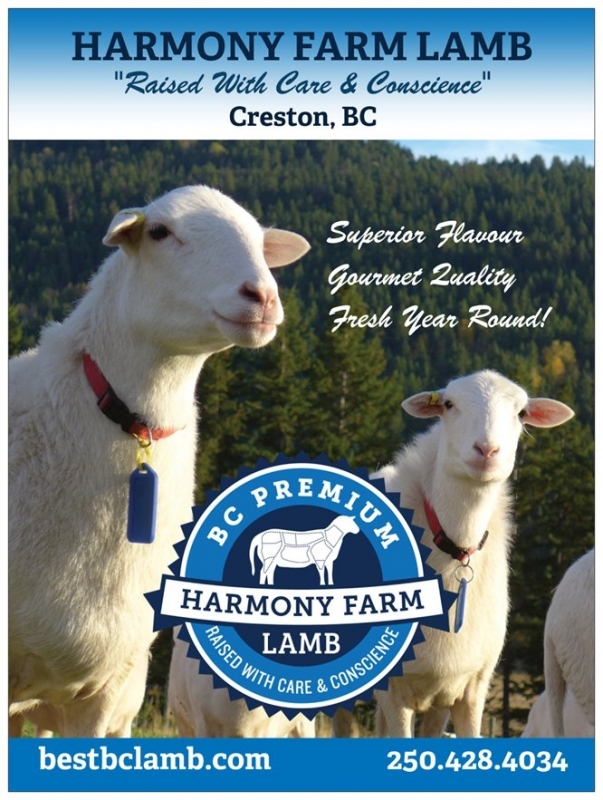 BC's #1 choice for premium quality, ethically raised, local BC lamb, available fresh all year-round...please feel free to visit the HARMONY FARM LAMB website www.bestbclamb.com for more information and details of how to order your own delicious supply of lamb! You will "love to taste the difference!"