HARMONY FARM LAMB
In addition to welcoming ALL dogs to our country 'custom care' dog boarding kennel, Harmony Farm Kennel And Lamb located at Monte Lake, near Kamloops BC is also the proud BC producer of St. Croix 'hair sheep', bred year round, for the production of BC premium, gourmet quality meat, (rather than wool),marketed both locally throughout the Okanagan as well as Vancouver, the lower mainland and the province.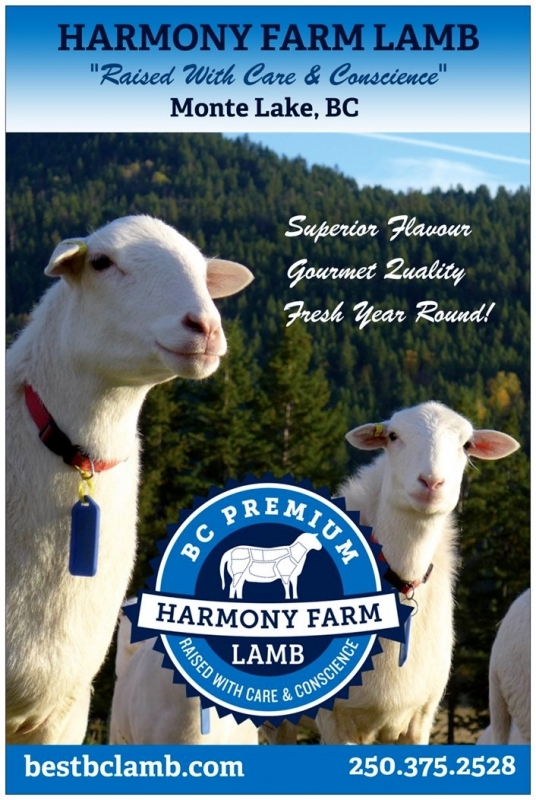 We have chosen to raise this 'hair bred' type of lamb for 3 specific advantages:
1) Having 23% less fat and almost no lanolin production, the meat has a full delicious flavour yet is mild without any gamey tallow taste or odour to cook. The lean smooth texture and sensational tenderness of Harmony Farm Lamb makes for an exceptional eating experience! You will love to taste the difference!
2) Smaller bone and less fat results in a higher yield of lean meat per carcass, compared to lamb produced primarily for wool
3) 'Open' fertility translates to managing 4x per year lambing at the farm, bi-monthly harvesting and fresh market availability all seasons throughout the whole year.
Raised holistically with 'care and conscience' start to finish, our lambs are naturally grown, stress and chemical free. Processed humanely and with respect, at a BC Government Inspected Class 1 facility, Harmony Farm lamb is sold by whole or half, custom cut, double wrapped and frozen as well as by whole fresh butcher ready carcass. Your lamb delivery is provided locally and we are happy to connect with deliveries to our valued customers throughout the lower mainland and Vancouver every other week! Lamb deliveries to other areas is easily arranged for your convenience.


BC's #1 choice for premium quality, ethically raised, local BC lamb, available fresh all year-round...please feel free to visit our Harmony Farm Lamb website www.bestbclamb.com for more information and details of how to order your own delicious supply of lamb! You will "love to taste the difference!"