Harmony Dog - Owner Training



Private Dog (Owner) Training near Kamloops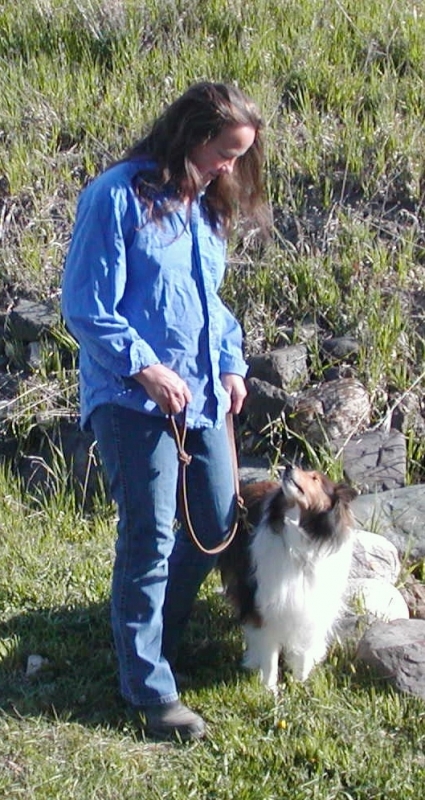 Now, Harmony Farm Kennel, located near Kamloops BC, is offering supportive training for owners of all types of dogs. You might call it private dog training, but my approach is about more than training canines, it's about training owners to build a relationship with their dog. Operating a 'custom care' dog kennel I have the opportunity to observe, interact and experience all breeds, all kinds of dogs with all types of doganalities and, all sorts of dog-owner confusions and challenges as well. With a customized dog boarding service that offers daily individual exercise I, like all dog walkers, have a heartfelt appreciation for dogs that are polite, have good leash manners, and of course, an excellent recall. These dogs are actually few and far between!


I believe that all dog lovers set out with the best of intentions, to own, love and be committed to, a well behaved dog that they foresee sharing an awesome, enjoyable, canine relationship with. People often seem to think however, that when they take a dog into their life, that dog should just understand how life goes and that a good relationship sort of just automatically happens. When it doesn't, dogs become unbalanced emotionally, mentally and physically while owners ...get frustrated. Worse, sometimes that lack of enjoyment turns into feeling desperate and helpless leading to a downward spiral that no one, including your dog, ever wants or enjoys... So what goes wrong?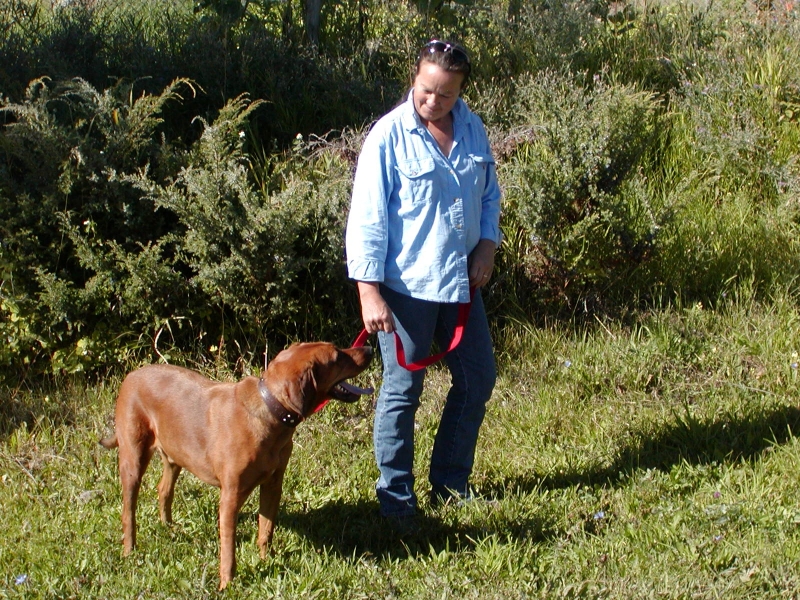 In my view, dogs are born dogs and know very well how to function as dogs. They question and 'test' their leadership (sometimes on a moment to moment basis) and function as a dog (not a human) with the answers they perceive, whatever those answers indicate. People, I observe, can have an auto response to the concept of "the pleasure, of having a well-behaved dog, just isn't worth the hassle, inconvenience, and time staking patience" to invest to create that dog. And so, dogs test as dogs do and often owners take the (procrastination) route of what at the time seems like the path of least resistance. Those constant 'easier' decisions result in dogs becoming all the more disrespectful and/or physical (and all the more testy) and owners finding bandaid ways to cope. I see people resorting to reacting to their dog's unbalanced behaviors by doing things like holding their dog tightly to prevent them from pulling, wrapping the leash around their hand to get a better 'grip', using treats to attempt to distract their dog from problems or avoiding direct interaction with their dogs all together. Often, when knowledge runs out, people get physical, which causes emotions to rise, which creates all the more choas for both the dog and the owner! Sometimes, not knowing what to do, people create situations to take care of a dog's basic needs by creating a backyard space, taking their dogs to run loose at dog parks (not always a stress-free answer),or find walking solutions through restraining tools, devices or other people to help.


Sound familiar? I am here to tell you that dogs don't have to be that hard! Dogs really are very simple - it's people that are experts at making simple things difficult and complicated! Believe it or not, every single time you interact, make eye contact or even whenever you're in the presense of your dog, YOU are training, whether you are aware of what you are training or not. And, your dogs, being dogs, know what you know and absolutely, they know what you don't know! If you find yourself frustrated with the havoc you find when you interact with your dog, whether that be bad house manners, disrespectful behavior or constantly longing, jumping or pulling you around when they take you for a walk (or worse)...I am happy to help simplify life for both you and your dog!


"Patricia was the lifeline that my dog Bulldog Rubble and I needed! After working with serveral trainers and trying so many methods Patricia
was the only person to get through to my dog and be able to teach ME to be the effective handler and reliable leader that he needed. She was
resourceful and compassionate - we have more respect and understanding of each other than ever. I love the knowledge, skills and confidence
that thankfully, has changed our lives together for the better!" ~ Darrelle Griffiths, White Rock, BC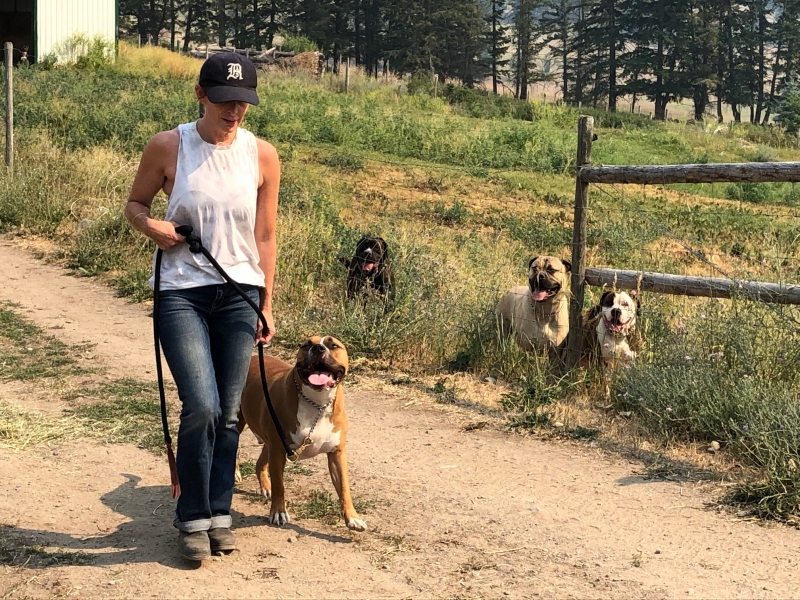 My Dog Owner Training Approach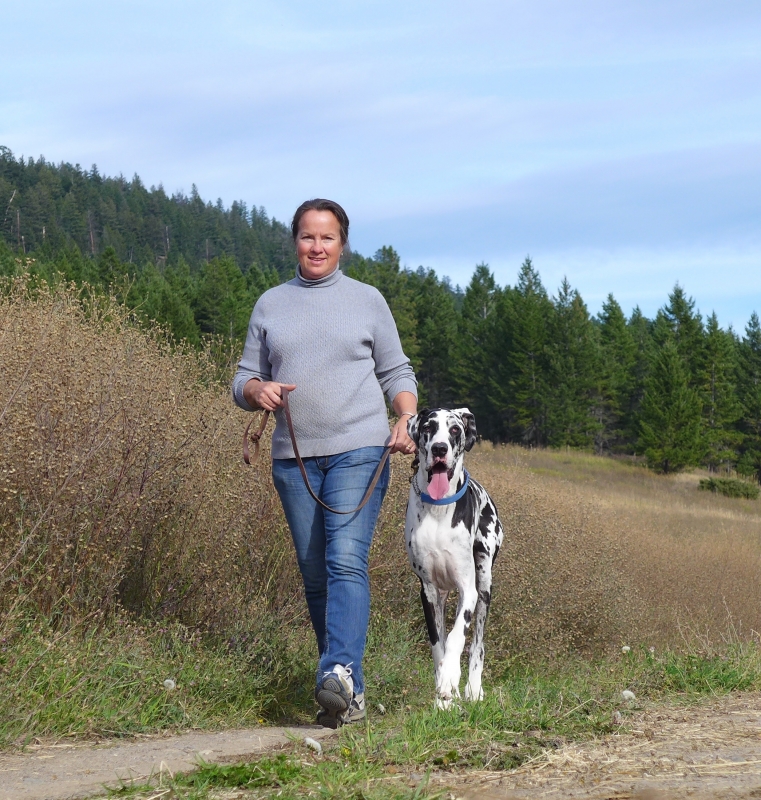 Having 45 professional years training horses and their owner/riders both traditionally and in the art of natural horsemanship, with many of those years specializing in stallions, I personally find dogs are very easy! Because of that, I want to offer private dog training to owners so they can learn from my experience. I promote positive common sense dog training methods, however, that does not generally include using treats or avoiding problem triggers in any way. I do not bribe dogs, I don't 'negotiate' with dogs, I don't distract with misplaced praise, avoid confrontation, nor will I use shock collars or intimidation. In my view, a person will always run out of treats (or have the wrong kind!)...you will never run out of a pocket of love and effective leadership choices.

In my opinion (which, I understand, is often out of the 'normal' box of typical dog training approaches),first comes love, then language...the 'language' that your dog understands, using psychology, understanding, and consistent body language. I believe in creating guidelines for your dog, being assertive without being aggressive and being the consistent alpha leader that your dog can rely on, (that your dog's birth parents would have taught originally and without hesitation).


Generally, dogs are good followers and they need, crave, and depend on a good leader. The leader controls the motion and thereby, the emotion – a leader worthy of following, is where most owners fall short. When a dog has solid and consistent leadership they know where the 'lines' are. When they have structure that is unwavering it doesn't need to be constantly tested or questioned. The desireable actions are easy and comfortable while the undesireable behaviours become difficult and uncomfortable. Once their structure is established and reliable, then dogs can relax, trust and build their emotional balance, (becoming the enjoyable, companion dog that everyone loves to share their lives with). When dogs are emotionally balanced and calm, then they can think and respond physically to what they know will be comfortable, safe and ...upheld by their alpha leader. To become your dog's alpha, your word must be your law, no matter how cute your dog is or how well they try to negotiate! Your dog is your dog, your dog is not god, and your dog, can not be the one making the decisions! Sound simple? It is simple!

I am dedicated to helping you and your dog find that effective, peaceful and enjoyable life together! It is always inspiring and so fulfilling to help people and their dog's start understanding one another and ...actually enjoy time with each other! Rest assured, what I teach will make sense to you, the information will become easy habits and the journey will be rewarding and fun! Soon, you will find yourself wanting to spend more fun times with your dog! Your dog will embrace your alpha position and appreciate being able to relax, comfortably and safely, in your new found leadership. Sound like a plan? Your dog can't wait for you to get started!
Want to send your dog to get trained?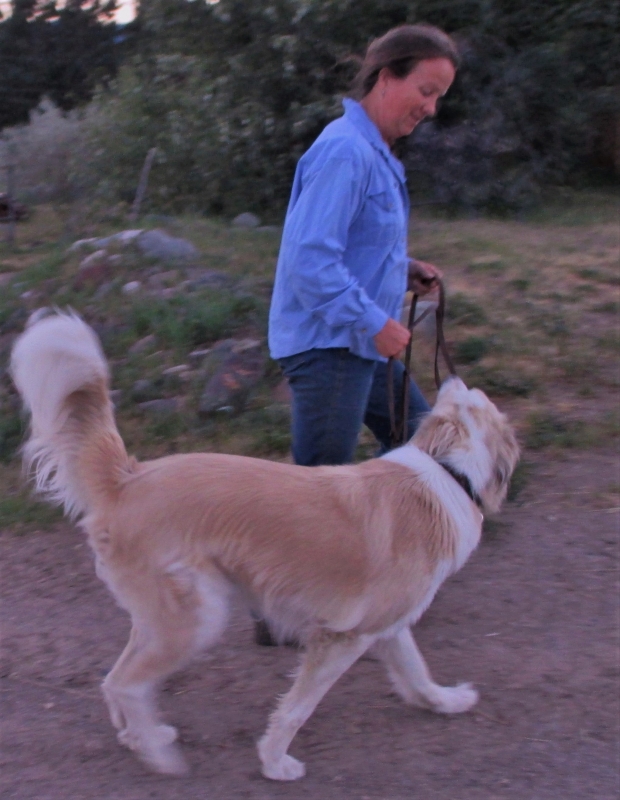 If you are looking for me to 'fix' your dog, I consider that like sending your wife or husband to get counselling to fix the relationship. If that is the case, then no, I am not you or your dog's answer! Love, nor respect, is transferable... Translated, that means, you, the owner and number one person in your dog's life, needs to become aware of and improve the leadership you are providing (whatever that leadership is or is not) so that your dog can become the friend and companion that you've always wanted. To be honest, your dog is the easy part! I am not here to be the source of your dog's love (no one loves your dog like you do) nor am I here to do the committed work for you. I am here, to teach, guide and support you and your dog along the way.When you are ready, I am here for you and your dog, whatever each unique situation requires, to improve each individual dog owner relationship, to the best it can be.



Where & When?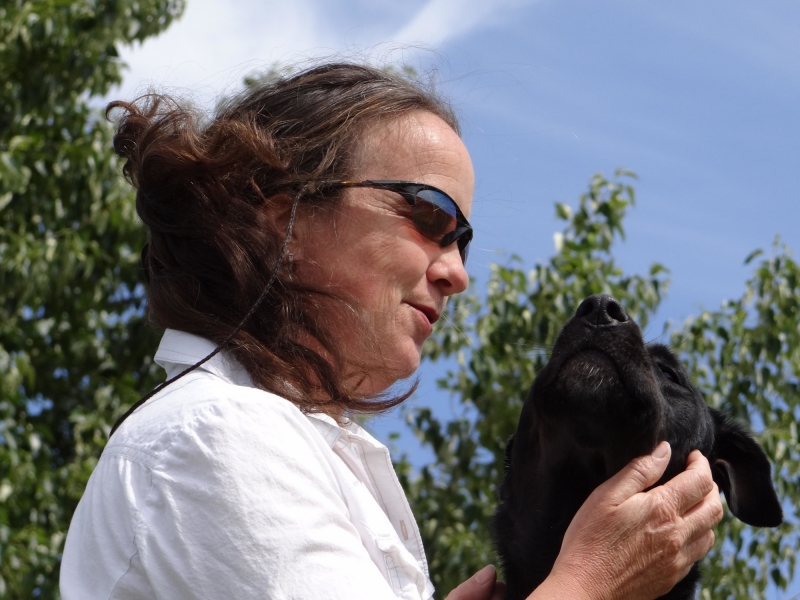 I prefer to have folks come to Harmony Farm and enjoy the open country environment that offers a huge variety of spaces and training opportunities for your dog owner training sessions. If it is in the best interest for a board and train situation to support your private sessions and to help get your dog off to a stronger start, we can talk about that.

Once your training is well underway, if you and your dog would benefit from working together in other locations or in your own home, then certainly, I am supportive and will be happy to accommodate what is best for the most successful outcome, longterm.

Yes, you will have homework and absolutely, you will be expected to practice!
Interested In A Focused Cabin-Board &Train Opportunity?
For out of town customers or for folks that would love to take a more concentrated approach to hands on, one on one training with their dog, I offer a beautiful country "All Tucked Inn" cabin here at Haromny Farm. The cabin accommodates 1-2 people and is fully self contained. While you enjoy your cozy farm stay we will have 2 or more training sessions together per day. You will have plenty of time to practise what you have learned while enjoying countrified hikes and taking advantage of endless training opportunities on the farm and surrounding crown lands. A minimum 2 night stay cabin-board and train packages are available. Please contact me to arrange a convenient time when your dog can have a space in the kennel and the cabin can be reserved for your minimum 2 night board and train stay at "All Tucked Inn".
How Do You Get Started?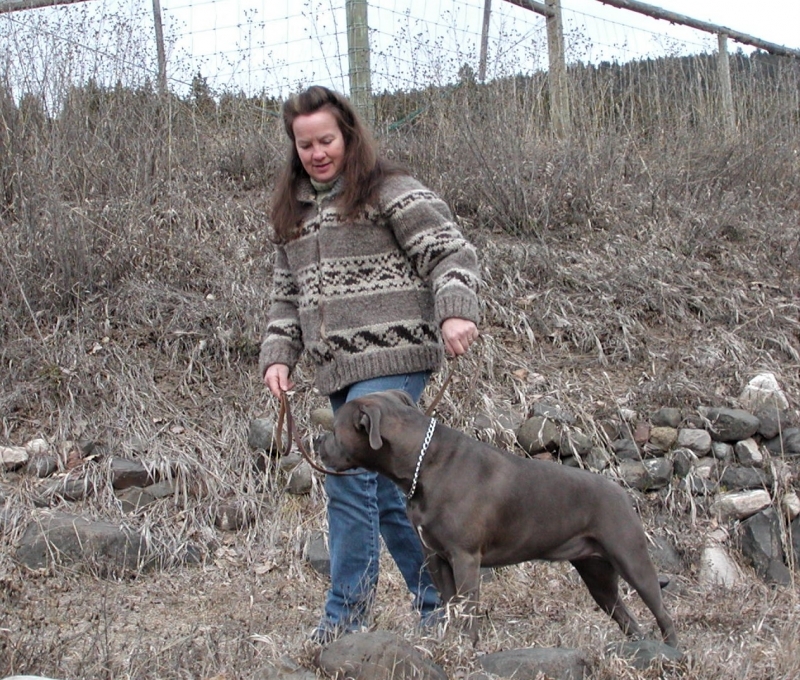 If you are ready to commit yourself to learn, I am here to help! Just use the contact form at the bottom of this page to make your request. I will reply and together we will arrange private dog training with your schedule. Let's get started building the dog relationship of your desires! Both you and your dog will truly love to find the relief of a new exciting level of understanding, safety, fun and appreciation for one another – soon you'll wonder why you ever chose to struggle and stress over the blessing of sharing your life with a dog!