Tip of the Month: Let em Sniff!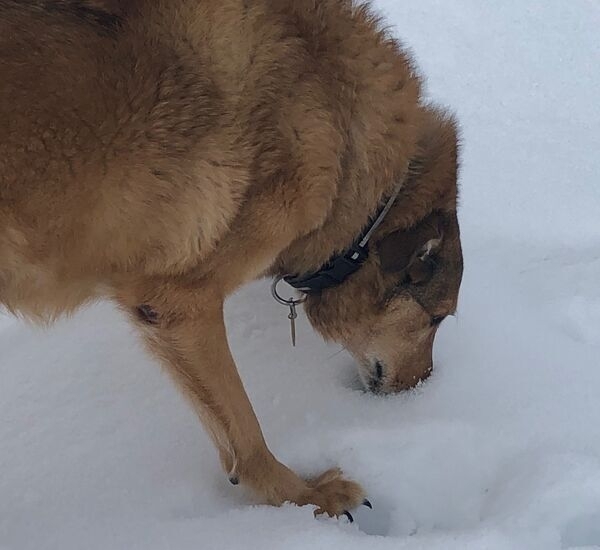 Each month, Patricia from Harmony Farm Kennel shares a dog top of the month in Saddle Up magazine. Here is her tip from page 24 of Saddle Up's March 2022 issue:
Do you ever feel embarrassed waiting for your dog to sniff, while out for a walk? Honestly, when I walk dogs, my very first reaction to a dog's constant drive to sniffing everything is to move along, thinking "let's walk!" Well, that's because you and I are people and not dogs!
For a dog, using their incredible sense of smell is vital for them to stay informed, by reading the 'doggy news', processing who's who and who was what, when and where. It's like their radar to recognize the scent of their surroundings, the environment, and most importantly, to identify with the critters of past and present that have left their 'mark' on posts, trees, tires, fences, grass... pretty much everything a dog (coyote or wolf) can leave a message on!
Furthermore, did you know that dogs smell very differently than humans? We breathe and smell directly through our nose while dogs have a fold of tissue that separates breathing from smelling, which actually gives them 40 X greater smelling capacity! Who knew?! In fact, a dog's amazing gift of smell can detect specific illness, disease and even emotion like fear, anxiety and sadness in humans.
So... the next time your dog plants their paws to stop constantly to sniff as if it's their life mission, realize that it is and allow it! They will be thankful and you will notice your dog is more relaxed and confident in their reassurance that they are up-to-date on their doggy news!
Patricia Skinner-Porter is the owner/operator of Harmony Farm Kennel & Lamb at Monte Lake BC. Offering custom care boarding (non-dog park style) Patricia provides personal care, attention and daily exercise for ALL dog types, breeds and doganalities! She also offers one-on-one dog-owner training, helping individuals to create healthy happy relationships with their dogs. Here she shares her vast array of experience with a beneficial monthly tip for you and your pooch to enjoy!