Summer HOT Dog Buster!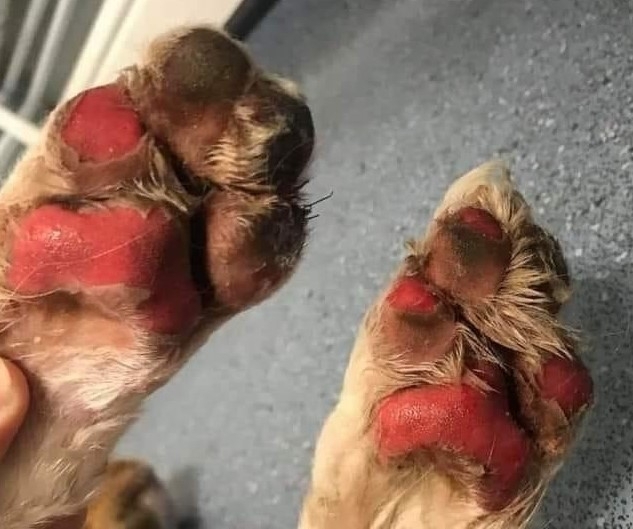 Well, it's nowhere near as hot as last summer in the Okanagan but tell your overheating dog that! Would you recognize if your dog started overheating? Hopefully, you will be able to intervene before your dog's wellbeing is compromised trying to manage the heat.
Simply, dogs sweat through their paws. Panting helps them release their heat but can also lead to a number 1 danger – dehydration. Dehydration is serious and can quickly lead to organ damage and even death in overheated dogs so please, pay attention to your dogs clear signs of overheating!
Specific dog facts and overheating symptoms to closely watch for:
☻ Normal dog temperature is 101-102.5 (38.3-39.2C). Metabolic physical meltdown happens when temperature rises to 105 degrees F (40.C).
☻ Dogs sweat by panting, 10-30 rpm is normal.With extreme stress, panting can increase to 400 pants per minute! (Keep in mind that flat faced dogs overheat quicker due to inability to pant as much as required.)
☻ Watch for loss of appetite, depression, anxiety, excessive frantic panting, extreme salivation, bright-red gum membranes, weakness, instability or labored breathing... all clear warning signs that your dog is overheating! If you see any of these signs call your vet asap!
Suggestions to help your dog beat the heat:
♥ Remember dark colored dogs and thick undercoats make a dog more vulnerable to overheating – groom and thin their coats as much as possible (consult a vet before shearing which can sometimes be a negative option)
♥ Never take dogs in a vehicle (or back of your truck - ever),never walk them on the scorching pavement or burning sand...or anywhere you wouldn't walk barefoot! Their pads will actually burn causing unreal pain and taking months to heal!
♥ Allow your dogs to relax and stay cool inside during the heat of the day, exercise only during coolhours, preferably on grass
♥ Provide 24/7 access to cool, clean water to keep airways moist (large ice cubes are helpful)
♥ Damp towels in walking areas to keep pads cool and moist
♥ Ventilation by AC or a fan to move air (using ice blocks in front of a fan helps)
♥ Neck cooling bandana
♥ Access to a kiddy wading pool or sponge wet your dogs underbelly and neck
♥ Hose down grassy areas or rest areas that your dog frequents outside in the shade
♥ Frozen dog popsicle treats or ice blocks work great to encourage and help to keep dogs hydrated and entertained! (freeze treats or toys inside an icecream pail of water for easy fun dog popsicles!)
Here's to a beautiful summer and a cool, healthy dog to enjoy it!
For more dog training tips, visit my Ask The Trainer page. Ask me about dog-owner training today as well!