Staying Connected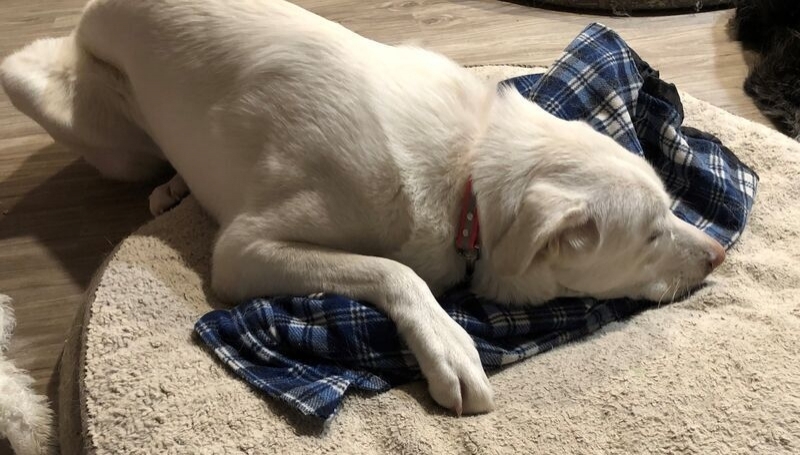 Harmony Farm Kennel and Lamb, located in Monte Lake, BC is a kennel situated in the country, on a large working farm surrounded by crown land. It is a small peaceful kennel offering custom care, attention and exercise. People ask why I suggest that they bring an article of clothing that smells like them for their dog to covet while they stay with me. Well, I know from experience that it makes a world of difference for your dog to stay connected to your scent while they are somewhere else.
Ever hear that if your dog is lost or missing, to leave something out that smells like you, where they were last sighted? It is very effective! Dogs are usually ruled, first and foremost, by their nose so it works well by providing a direct scent association for your dog to covet. The same principle is very effective when you purposely leave your dog somewhere else when you go away. It doesn't matter how long a duration you are apart or whether you leave them with family, a trainer or a boarding kennel, be sure to leave them with their regular bed, regular food, (toys and treats if allowed) and most importantly, something that smells like you, to maintain their connection with 'their person'.
If it is too cumbersome to leave an extra article for your dog seperately, then perhaps you can put the pillow part of their bed inside your t-shirt, pillow case or a sweater. Another simple way of sending your scent with your dog is to put a few socks inside the zipper section of your dog's bed. It doesn't have to be a large article just something with your scent (fresher the better!). Your dog's anxiety will be substantially less and their ability to adapt with confidence to new environments will be much easier...even better, YOU will worry less leaving them behind, knowing they have a piece of you by their side to remain 'connected' while apart.
Check out this valuable horse and dog magazine where I offer a Dog Tip of the Month! This month my tip about staying connected with your pooch is on page 26.
If you are at all worried for leaving your dog behind, or perhaps your dog is extra anxious (especially after being so isolated with you these past 2 years),please consider a little training or tune up, for you and your dog, with a review of my website page Dog-Owner Training. I look forward to seeing you soon!